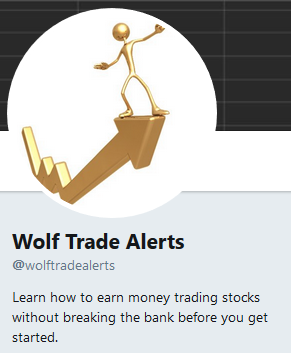 I am a pattern day trader and I use a couple, high-percentage winning chart patterns that show up almost every day. I win big 60% of the time and I lose small 40% of the time by following strict trading rules with these high-percentage winning chart patterns. Anyone can easily earn a six-figure income taking advantage of these chart patterns and trading rules all found in Wolf Trade Alerts educational program.
Plus, I trade one unique, "blow your mind," chart pattern that even the big named guru traders don't know, and if they do know about this pattern, it's because they learned about it from Wolf Trade Alerts.
In the 100% money-back guaranteed stock trading education Wolf Trade Alerts offers, I mostly offer a simple trading strategy, specific high-percentage chart patterns and simple trading rules that guarantee your success. Although, you might see me throwing the dice on a high-risk, swing trade gamble and touting it on Twitter, but I don't teach or recommend those types of trades unless you have an extreme amount of extra cash you don't care about losing.
You can be the judge for free for 28 days. If you're not completely blown away by the stock trading education within 28 days, and if you are not giddy excited about the, "blow your mind," chart pattern, get all your money back. It's that simple.
I'm here to make sure you succeed trading stocks, and I know you will succeed if you can learn and follow simple trading rules.
I won't be posting on this blog any longer, because I'm too busy building this incredible stock trading education for you. I only wanted to post enough winning trade examples on the blog to show you the potential earnings using the chart patterns and trading rules I teach in Wolf Trade Alerts education.
I guarantee you will be blown away by the information and excited about starting a stock trading career.
Click here if you need to learn more about Wolf Trade Alerts?